Our first Women Owned Small Business Month Winner!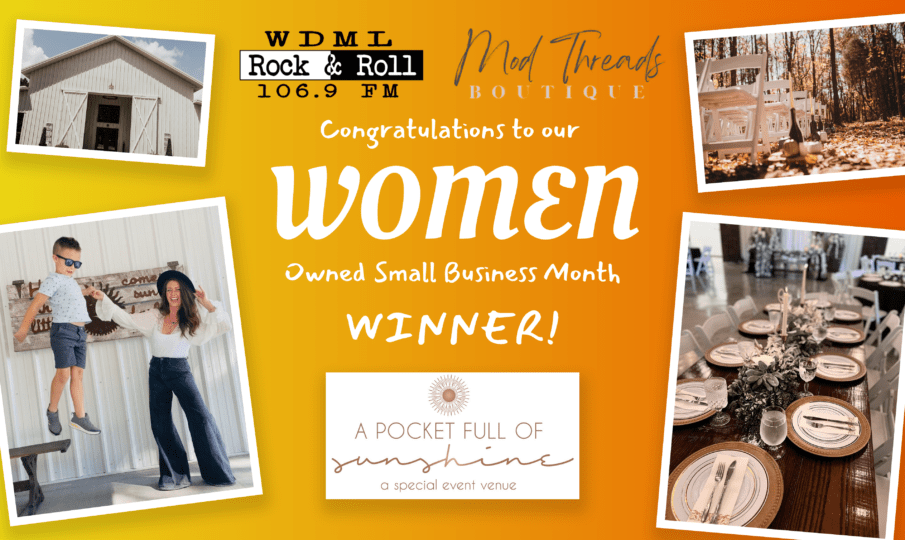 First of all, a big thank you to everyone in the community for nominating these businesses that you deem special and deserving of our prize! We received HUNDREDS of entries in only a couple days! It's great to see everyone pulling together like this. Without your support, these businesses wouldn't be where they are today.
Withers Broadcasting, WDML and Mod Threads Boutique are happy to announce that we have our first winner… Congratulations to A Pocket Full of Sunshine!
A Pocket Full of Sunshine is a special event venue, specializing in weddings, among other events. Talia Campbell, a single mother, owns and operates A Pocket Full of Sunshine, striving to provide the most memorable and unique once in a lifetime events for her guests. She offers a breathtaking venue hall, individual rental items, and also provides an option to her guests for décor. Listeners noted that her motivation and dedication to her business and community is not only overwhelming, but inspiring. She always recommends other local businesses to her clients, helping make Mt. Vernon and Jefferson County a popular hotspot to hold weddings and events, bringing more people to the community.
Find A Pocket Full of Sunshine at their website https://www.apocketfullofsunshine.info/
Also on Facebook! https://www.facebook.com/apocketfullofsunshinellc
And check out these beautiful photos on their Instagram! https://www.instagram.com/apocketfullofsunshinellc/
Once again, Congratulations to A Pocket Full of Sunshine! You deserve it!
Remember, we're picking a new winner every Friday in October! So keep the nominations coming and be on the lookout for our next winner!
Nomination Link Here: https://www.wdml.com/women-owned-small-business-month/