The Final Women Owned Small Business Month Winner!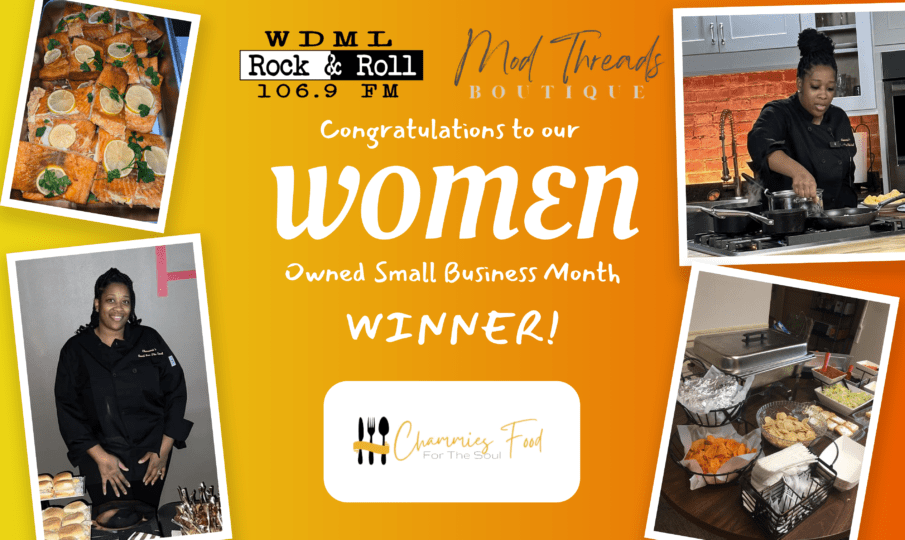 This is it, the final Women Owned Small Business Month winner announcement! A huge thank you is in order to everyone who nominated their favorite women owned small businesses! Hundreds of nominations, hundreds of amazing community members stepping up and showing their appreciation for the businesses and women they hold dear. As we've said before, without your support, these businesses would not be where they are today. Every little bit helps!
And finally, Withers Broadcasting, WDML, and Mod Threads Boutique are excited to announce that the final Women Owned Small Business Month winner is… Chammies Food for the Soul!
Chammies Food for the Soul is owned and operated by Champagne Palmer. She serves all types of delicious foods, deserts, sweets, treats and much more! Chammies can cater any event or occasion and also sets up as a food vendor at various events. They even offer party supplies, t-shirt printing, and more. Champagne is passionate about cooking and created her business to not only feed but bring people together. From big events down to family meals, no job is too big or small. Chammies Food for the Soul works to help take food prep off of your plate and allow you to focus on enjoying your event, having fun, and eating a good meal!
Check out Chammies Food for the Soul and order on their website. https://www.chammiesffts.com/ 
Plus, follow them on Facebook! https://www.facebook.com/ChammiesFoodfortheSoul 
Once again, massive thanks to everyone who participated in this contest by nominating a women owned small business! These businesses provide so much for our community, we wouldn't know what to do without them! Spreading the word, driving traffic, and telling their stories is the least we can do!
Thank you everyone!
Go give some love to all of our winners at the link here!