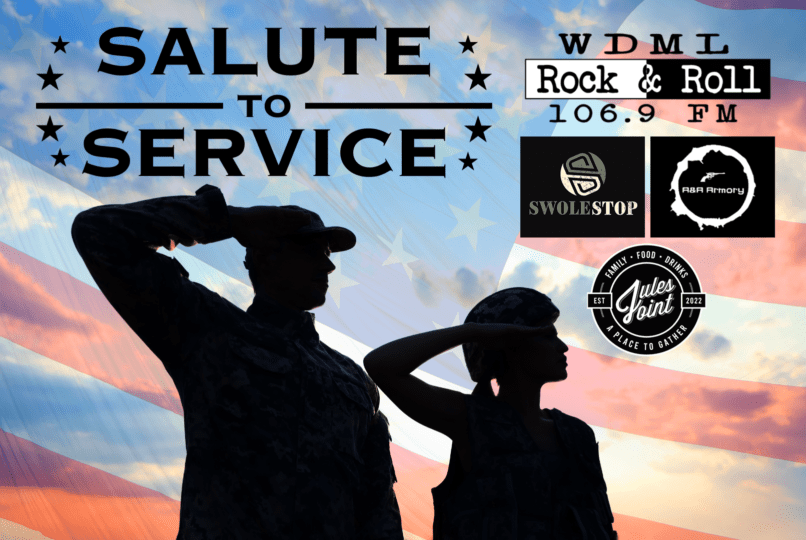 During the month of November, WDML, Swole Stop, Jules Joint and A&A Armory will be honoring all those who have served with a salute to veterans and active duty military. Committing yourself to service, whether in the past or in the present, is a brave and selfless act that should be honored and acknowledged. You answered the call and made sacrifices to defend our nation, ensure our freedoms, and protect our way of life. For that, we thank you.
To enter, nominate the veteran or active duty member in your life by submitting a photo and telling us a little about them! We will pick one winner at random each week to win the veteran salute prize pack, courtesy of Swole Stop at 2225 Broadway in Mt. Vernon, Jules Joint at 185 E. St Louis St. in Nashville and A&A Armory at 135 East Broadway in downtown Centralia. Swole Stop will give out four certificates valued at $25 (one per winner), Jules Joint will provide a free lunch (one per winner) as part of the prize pack for veterans and active duty military and A&A Armory will supply four $20 gift certificates (one per winner). Submitted photos will be assembled into a gallery to honor all of our winners and nominees throughout the month!
One entry per person, Contest Rules apply.
ENTRIES ARE NOW CLOSED
Thank you to everyone who has nominated the veterans and active duty military in their life! We salute you! Check out our winners and the nominees below!
Congratulations to our Salute to Service Winners!
Salute to Service