A new Women Owned Business Month Winner has blossomed!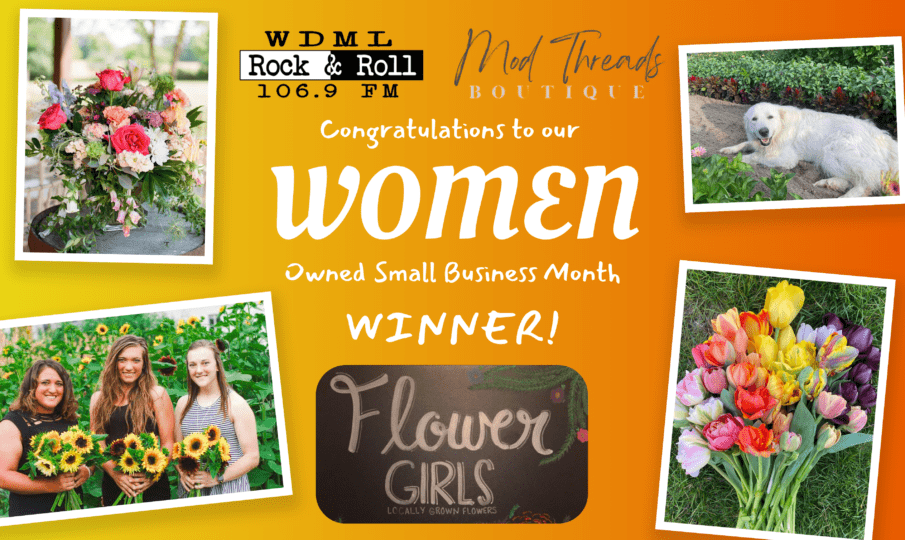 We're approaching the end, but we're not quite done yet! Another Women Owned Small Business Month winner is on the way! Thank you to everyone who took time to nominate a business for this wonderful prize. Every little bit helps and they all appreciate your support!
Withers Broadcasting, WDML, and Mod Threads Boutique are proud to announce that Flower Girls has been selected as our next winner! Way to go!
Flower Girls is a flower farm based in Woodlawn. Locally owned and operated, they offer in season flowers and foliage for weddings, special occasions, dances, and everyday bouquets, all locally grown themselves! Daily operations have been taken over by Callie Lueking, while her mother and sisters pitch in to help with events. Callie works hard and leads by example, showing that you can achieve your goals and inspires others to follow their passions. She started in high school by expanding the designs and has since improved her techniques while in college, adding new selections and her unique personal insights! Callie also gives back to the community and volunteers for different youth projects in Jefferson County. Listeners recognized the love and passion that Callie and Flower Girls pour into their arrangements. They go above and beyond whether they have one day or one week of lead time. They are always excited for your Big Day or event!
Congratulations to Flower Girls for being this week's winner!
You can find Flower Girls on Facebook! https://www.facebook.com/Luekingflowergirls 
And you can admire their beautiful flowers and designs on their Instagram! https://www.instagram.com/luekingflowergirls/?hl=en 
Our final winner will be announced next Friday, so this is your last chance to get those nominations in! Make it count!
Nomination Link Here: https://www.wdml.com/women-owned-small-business-month/