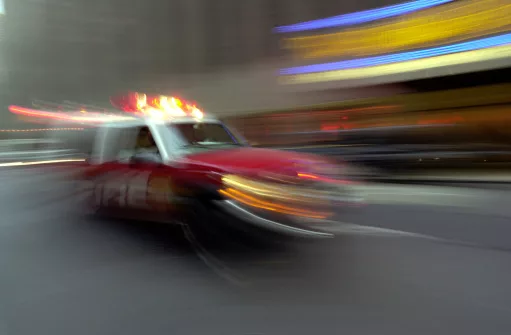 WHITE COUNTY — A Carmi man is facing felony charges after being arrested by Carmi Police for stealing an ambulance Wednesday morning from White County Ambulance on East Cherry Street.
The Carmi Police Department says 54-year-old Anthony Scott Hogue is charged with Possession of a Stolen Vehicle, Theft of government-supported property in Excess of $100,000, and Burglary (Motor Vehicle) after he was found to be operating the stolen ambulance.
The theft happened in front of the ambulance barn and was reported by a concerned citizen at 5 a.m. after hearing the ambulance at 5th and Stewart Streets doing a burnout in the parking lot. The ambulance was later located and was not damaged. Hogue was arrested at Pundrakes Convenience Store on Stewart Street at 6 a.m.
Hogue was ultimately taken to the White County Jail and was formally charged in court Thursday with Class X felony theft of government property, Class 2 felony possession of a stolen vehicle, Class 3 burglary, and misdemeanor resisting a peace officer.
He was ordered to remain in the White County Jail pursuant to the new SafeT Act and pending the outcome of a fitness exam, as the court found a bona fide doubt as to Hogue's mental fitness. A status hearing in the case is scheduled for October 25.